Analysis of circulating miRNA in plasma or serum
In recent years, RNAs have been shown to exist stably in serum or plasma and have drawn attention particularly as markers for diagnosis of diseases, evaluation of therapeutic effects, selection of treatment in clinical studies, and other uses. It has been thought that, as a large amount of RNases exist in serum (plasma), RNAs in blood are degraded in a short time, and miRNA cannot exist in serum. However, recent studies have demonstrated the existence of miRNA in serum and plasma, and studies of miRNAs in blood as a target, such as exhaustive analysis of miRNAs existing in serum or plasma, have increased in number dramatically. Blood miRNA profiles differ substantially between cancer patients and normal subjects. If the difference can be used as a new marker for valuable information regarding condition, grade, and prognosis of cancer, it is expected to be applied to diagnosis and treatment.
miRNAs are considered to exist in serum or plasma in forms as those secreted or excreted from cells or tissues (secreted miRNAs). miRNAs are enclosed in vesicles or associated with proteins when released from cells and thus can exist stably without being degraded by RNA degradation enzymes. Therefore, miRNAs have many advantages as biomarkers, as follows:
Serum and plasma samples can be obtained less invasively compared with tissues.
miRNAs can reflect the condition of a lesion (surrounding tissues) and specificity to an injured tissue.
miRNAs can be stored for long time, because they are stable against freeze-thawing, temperature variation, acids, etc.
miRNAs can be targets of drug discovery, because they regulate the upstream portion of the protein synthesis pathway.
Responses to drugs or stimulations are rapid.
It is suggested that miRNAs are involved in cellular signal transduction via vesicles.
The vesicles in which miRNAs are enclosed and released are considered to be those called "exosomes," which enclose wasted proteins and amino acids in cytoplasm with a membrane structure and transport them out of cells. Exosomes are known to circulate in body fluids, including saliva, urine, and breast milk, in addition to blood, and miRNAs existing in these body fluids attract attention. Recently, cancer cells have been demonstrated to secrete their own miRNAs enclosed in exosomes, and exosomes are therefore receiving attention as a means for cancer cells to transmit information to surrounding tissue and cells. As a model system to elucidate the cell information transmission mechanism, procedures for analysis of miRNAs in cell culture supernatant are being investigated. Based on these analyses, the system attracts attention to the idea that the exosome mechanism may be utilized in information transmission between cells involving miRNAs, for example, cancer cell metastasis, information transmission in the immune system, and repair of damaged tissue.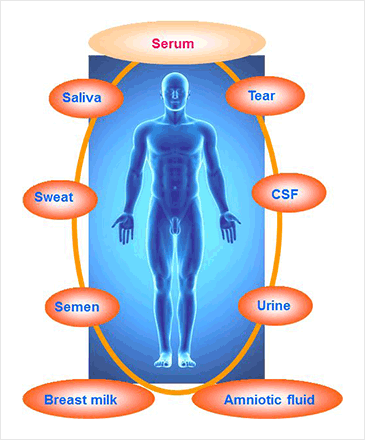 Figure. Analysis of circulating miRNA in plasma or serum