3D-Gene® Scanner
Enable high strictness and high reproducible analysis by getting the 3D-Gene® chip performance to the utmost to the limit
The 3D-Gene® Scanner keeps low background process and achieves most appropriate focus depth by optimized confocal optical system as well. In addition, autofocus function on board makes user-friendly operation. The 3D-Gene® Scanner has optical characteristic, durability hard coat type optical filter. With its unique technologies for getting higher detection quality with low expression and enabling to be expanding its detection range could lead higher reproducible scanning.

Composition
DNA microarray scanner
PC
Digitizing analysis software
Scanner specifications
Description
3D-Gene® Scanner 3000
Sample size (mm)
25–26(W)×0.9–1.1(D)×75–76.2(H)
Scanning range (mm)
23(W)×76(H)
Time
Less than 3 minutes
(Scanning range: 22×60mm, in case of pixel resolution 10µm, except lord time)
Pixel resolution
Selectable 2.5, 5, 10, 20, 30 and 50µm
Dynamic range
16bit
Light
Solid-state laser (for Cy5: 635nm, for Cy3: 532nm)
Optical system
Confocal system
Detection element
Photoelectron multipliable tube (PMT)
Focus
Focus depth more than 50µm; Autofocus function
Stacker acceptable amount
24 chips maximum
Size (mm)
360(w)×620(D)×310(H)
Weight
approx. 40kg
Voltage source
AC 100V 50 / 60Hz
Strictness
Examined variability of amount of fluorescence by measurement of a chip which had all spots outshined inserted into the 3D-Gene® Scanner forward and reverse direction. The result was that variability of amount of fluorescence on almost all spots was within the margin of plus or minus 10 percentages. The median of CV value was 0.7 percent.
Reproducibility
>Measured twice by using the 3D-Gene® chip treated hybridization (Cy5). The coefficient of correlation value which was deduction noise from each spots was 0.9998, extremely well resulted. The median of CV value of spots which were distinct from noises was 5.6 percent.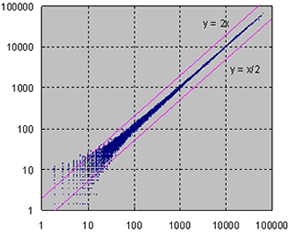 * For any requested information for 3D-Gene®, please contact us.