Two-color method
Target samples a and b are each labeled with a different type of dye in the two-color method. In general, Cy3 (cyanine 3) and Cy5 (cyanine 5) are used. Samples a and b are mixed together before hybridization, and hybridization is performed on one DNA microarray. Therefore, the number of DNA microarrays used will be half the number of labeled targets (Fig. 2). In the two-color method, hybridization of 2 types of target nucleic acids is competitively performed on one DNA microarray. The fluorescence intensity ratios among attained samples are thought to reflect the ratios of number of molecules among samples.
The advantage of the two-color method is that the results are less affected by the quality of DNA microarrays since comparison of samples can be performed on the same DNA microarray.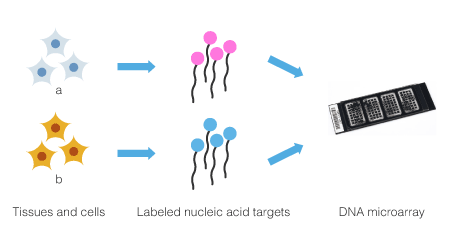 Target samples a and b are labeled with different dyes and then mixed.
Hybridzation is performed on a DNA microarray.
Comparison is performed within the microarray.
Advantage

Accurate expression comparison. Relatively insusceptible to variation in quality of the DNA microarray.

Disadvantages

A reference is always required.
Recommended cases of two-color method
■individual combination experimental system

■Related experimental system
(Drugs, gene KO, gene introduction, time (limited))
Recommended cases of one-color method
■intergroup comparison

■Particular comparison is necessary

■Long time course
* For any requested information for 3D-Gene®, please contact us.