Outline of detection method of genes by DNA microarrays
A DNA microarray is a detection tool which uses the specificity of DNA binding to the nucleic acids of complementary sequences. RNA extracted from a sample is processed into an appropriate form (particulars of the processing method are explained later). Next, a solution adjusted for the DNA microarray is applied and hybridization is performed. A probe complementary to the target nucleic acids are on the DNA microarray. The probe forms a double stranded structure with the complementary target nucleic acids in the sample solution. The excess reagents are removed by washing, and double strands formed by hybridization can be detected. Double strands cannot be confirmed macroscopically. Therefore, a typical method involves fluorescent dye incorporation and the use of a detector to observe fluorescence. Another method involves the use of an intercalator and electrochemical detection.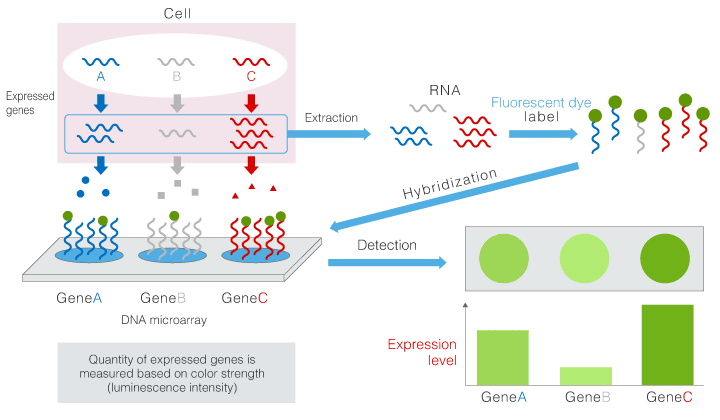 DNA microarry: Analysis tool, From hundreds to tens of thousands kinds of DNA fragments are adressed on substrate in high density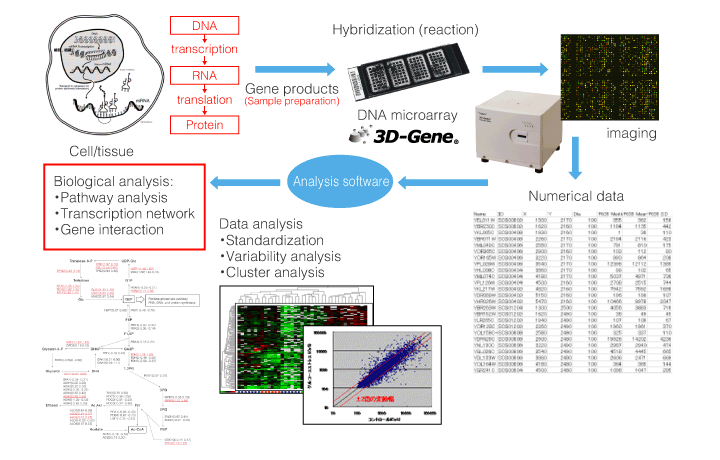 Based on the numerical data, statistical analyses, including intragroup analysis and intergroup analysis, can be conducted. In addition, for biological interpretation, using annotation lists, analysis according to GO (Gene Ontology) information, pathway analysis, and gene function and gene interaction analyses can be performed with analysis software.
* For any requested information for 3D-Gene®, please contact us.