Application notes
Vol.4
Gene expression analysis from formalin fixed paraffin embedded (FFPE) samples
A large number of specimens are stored as formalin fixed paraffin embedded (FFPE) samples worldwide, and expectations for effective use of these samples in gene expression analyses are rising. If a technique for expression analysis of genes from the FFPE samples can be established, retrospective studies making use of huge volumes of past disease data will be possible, and great contributions to disease and prophylactic treatments can be realized. However, RNA extracted from the FFPE samples generally suffer from low quality, and quantitative evaluation has been considered difficult. We have therefore been developing the 3D-Gene® DNA chip using a feature of high sensitivity to establish a technique for quantitatively performing exhaustive gene expression analysis from the FFPE samples.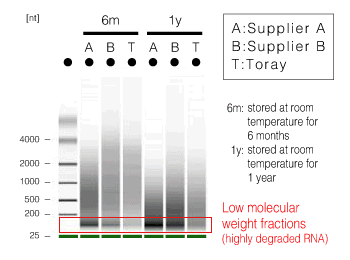 Fig.1 Extraction prescription and quality of RNA
The quality of extracted RNA varies with FFPE sample preparation and storage conditions, and performance of quantitative gene expression analysis may not be possible depending on the conditions. To perform quantitative gene expression analysis from the FFPE sample, the following 3 points can be made: (i) RNA with good quality should be extracted, (ii) whether the extracted RNA has sufficiently high quality for analysis should be determined, and (iii) samples should be prepared by a prescription with suppressed bias. Regarding (i), we have developed our own unique extraction prescription, and RNA with a smaller proportion of degraded fractions than from conventional prescriptions can be extracted (Fig.1). With this technique, the possibility of extracting RNA that can be quantitatively evaluated has been increased.
Regarding (ii), we found that the quality can be determined by subjecting RNA to electrophoresis and investigating the presence or absence of degraded fractions and crosslink fractions, as well as their proportions. With this technique, RNA that is very unlikely to show correct analysis results can be excluded beforehand. Regarding (iii), we moved away from the conventional idea that, regardless of whether RNA conditions are good or poor, as much RNA as possible should be amplified from a small quantity for analysis. We have found that a sample maintaining proportions of genes can be prepared by using a prescription with a suppressed bias to amplify RNA that has been confirmed to have sufficiently high quality for analysis (Fig.2).
By using these techniques and a high sensitivity 3D-Gene® DNA chip in combination, quantitative gene expression analysis can also be performed using RNA extracted from the FFPE.

Fig.2 Example of analysis of mRNA from mouse FFPE sample (A) Correlations with frozen tissues, (B) Comparison with quantitative RT-PCR
Furthermore, we also have devised a sample preparation prescription for micro RNA (miRNA) analysis, which has drawn attention in recent years. miRNA analysis is possible now by using a high sensitivity 3D-Gene® DNA chip. The preparation prescription of the developed miRNA sample is characterized by quantitative analysis, because analysis is performed without separating small RNA fractions from total RNA or performing amplification operations as in gene expression analysis. Fig.3 (A) shows high reproducibility of 3D-Gene®; (B) shows high correlation of 3D-Gene® with quantitative RT-PCR; (C) shows survival curves of an miR-21 high expression group and a low expression group prepared based on the results obtained by miRNA analysis of a gastric cancer FFPE sample with 3D-Gene®. These survival curves revealed that the miR-21 high expression group has significantly poor prognosis.
Fig.3 Example of analysis of miRNA from FFPE samples
(A) Reproducibility of experiment (mouse cerebellum RNA), (B) Comparison with quantitative PT-PCR (expression ratios of miR-21 in tumor lesion and normal region in stomach cancer FFPE tissue), (C) Survival curves of stomach cancer FFPE in an miR-21 high expression group and a low expression group
How to send an FFPE specimen when requesting a contracted analysis
(1) When sending a paraffin block
We will prepare a section and return the paraffin block immediately. (The number of sections varies with the tissue type, size, and others.)
(2) When sending a pre-prepared section
We will send a tube for packing the sample. Please place the section in the tube and send it to us.
* Guide for number of sections
Tissue samples 5 mm2 or larger: 5 or more slices having a thickness of 10 µm
Tissue samples smaller than 5 mm2: 10 or more slices having a thickness of 10 µm