Special surface modification for probe immobilization
Toray's unique surface treatment technology enables dense and uniform immobilization of probe on the substrate surface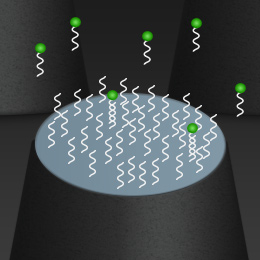 The probe is one of the factors which greatly influence the performance of a DNA microarray. In addition to base sequence and oligo DNA purity, "uniform immobilization" greatly affects the precision of a DNA microarray.
Uniform immobilization of probe DNA on the substrate surface is an important technology which affects the performance of a DNA microarray. In the past, a fixing agent was applied onto the glass substrate, but it was difficult to apply the agent evenly. Therefore, the number of probes that could be immobilized became non-uniform. Toray has developed and implemented technology for improving the resin substrate surface to immobilize DNA probe uniformly. As shown in the figure below, the new method can immobilize the DNA probe more uniformly compared to the conventional method.
* For any requested information for 3D-Gene®, please contact us.