Fine columnar structure
The Uneven structure is useful in the stability of spot morphology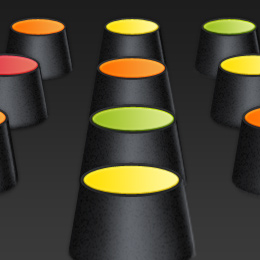 Until now a flat DNA microarray substrate has been sought for the stabilization of spot morphology.
However, Toray's 3D-Gene® microarray substrate has broken through this common practice and uses an uneven columnar structure for the detection area. The probe DNA is immobilized on the surface of the upper end of this column. This structure enables the stabilization of spot morphology and enables a uniform detected image. The figure shows the columnar structure of the 3D-Gene® detection area. The detection area consists of uneven structures which are lined in a well-organized manner. These structures are a few dozen to a few hundred micrometers in diameter and height.
Although the microarray substrate has a characteristic morphology, it can be read using a common scanner. Therefore, if a customer has an existing scanner, purchase of a new one is unnecessary.
* For any requested information for 3D-Gene®, please contact us.