Black resin substrate
Background noise level has been greatly reduced with black resin substrate.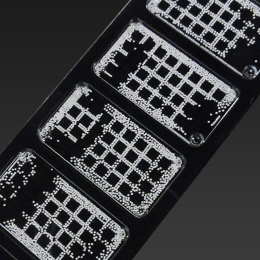 3D-Gene® microarray substrate uses "black resin substrate" which has a characteristic appearance. When reading the expression level on the DNA microarray, the microarray is exposed to laser, an excitation light. Then fluorescence of the probe area can be detected. Common substrates including glass substrates contain fluorescent substances, although in minute amounts. Therefore, such substrates emit their own fluorescence when exposed to an excitation light. This type of fluorescence becomes noise at detection and a cause of reduced data quality.
Toray has changed the substrate material to synthesized resin and has developed a "black resin substrate" with dye absorbing autologous fluorescence. This technology enables the reduction of noise when reading signals and realizes stable read-out. In addition, it enables an examination of low expression genes that were previously hidden in noise.

Comparison of noise levels
* For any requested information for 3D-Gene®, please contact us.