RNA extraction reagent
To enable analysis of miRNA extracted from plasma or serum
The 3D-Gene® RNA extraction reagent from liquid sample kit is composed of a new miRNA extraction reagent that extracts RNA from plasma or serum or the other body fluides.
miRNAs can be detected exhaustively with a small amount of sample, as little as 300 μL
Challenges in RNA extraction are resolved:

DNA, which affects measurement results at detection, is not mixed.
RNA extraction efficacy among samples is stable.

Challenges at detection are resolved:

Data with high quantitative accuracy and reproducibility can be obtained with a small amount of RNA
High detection specificity due to adjusted protocol
Based on the above-mentioned features, more innovative biomarker exploration can be expected.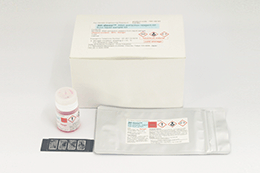 * Caution
Do not use this product for purposes other than research use.
This product is optimized for 3D-Gene® and the use with any DNA microarray other than 3D-Gene® is not guaranteed.
* For any requested information for this product, please contact us.